Blunt Filter needle: Sterile packed.
SOL-M® Blunt Fill Needle with filter is used for draw-up of medication, re-constitution of medication and accessing IV Bags. These are used to replace standard hypodermic needles and reduce the risk of needle stick injuries. SOL-M® Blunt Fill Needle with Filter has a 45° bevel and are compatible with standard luer lock syringes.
1 ½ inches long
45° bevel – Reduces needle-stick injuries.
18 gauge – Easy to draw and mix viscous medicines.
Standard luer hub – Fits on all size of standard syringe.
5 micron filter – Effective filtration of contaminant particles.
Red hub and cap – Quick identification as fill needle.
Low penetration force – Ease of use.
Cost less than safety engineered devises – Economical option.
No change in technique – Simple for adopting.
Supplied with safety cap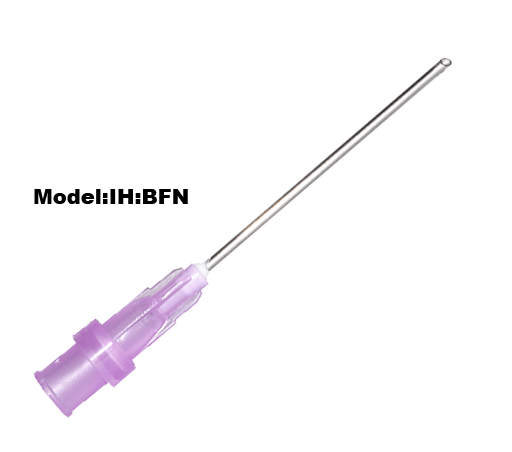 Pricing:
Note: All orders below are Shipped Free with a order of multiple safety ampoule openers.
Otherwise rates below are applicable.
All rates only apply to USA shipping. All other countries are subject to quotation, unless ordered with openers.
Package
Model
Length
Price
Order
Shipping and handling
$. USPS only
X12
IH:BFN
1 1/2 (38mm)
$ 10.20
X25
IH:BFN
1 1/2 (38mm)
$ 17.50
X50
IH:BFN
1 1/2 (38mm)
$ 27.50
X100
IH:BFN
1 1/2 (38mm)
$ 45.00
X200
IH:BFN
1 1/2 (38mm)
$ 80.00