The AH safety Ampoule holder is designed to minimize drug mix-ups; hold ampoules securely during procedures; and reduce ampoule breakage during busy working conditions. AH is fully sterilzable, impact resistant and is fast to assemble.
The standard unit holds: x 3, 20ml DIN ampoules, x 3, 10 ml; x 4, 5 ml & x 4, 1 or 2 ml ampoules.
Price is $ 22.99 per unit.
Quick Links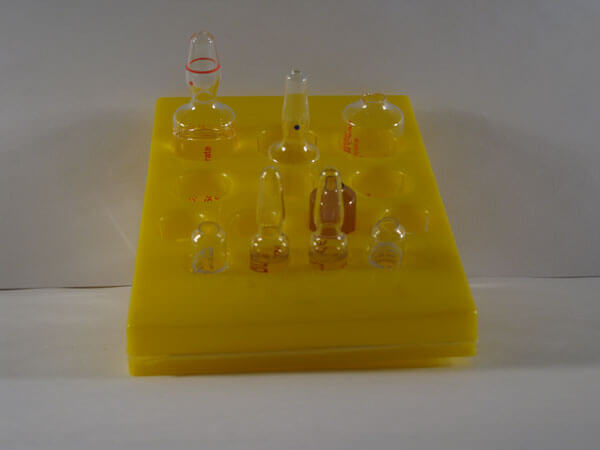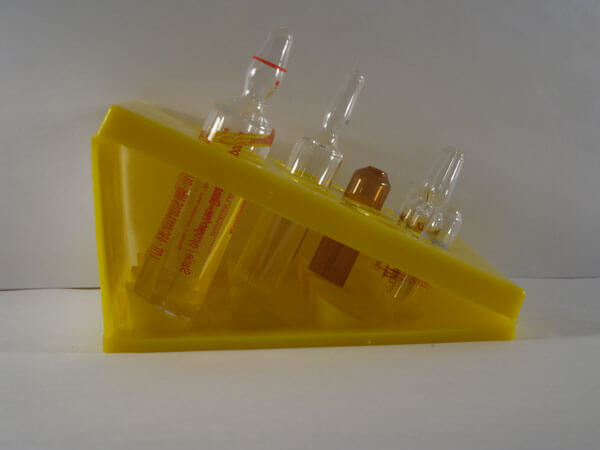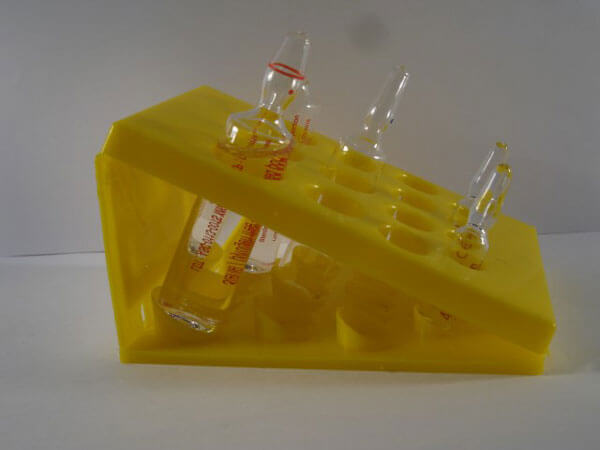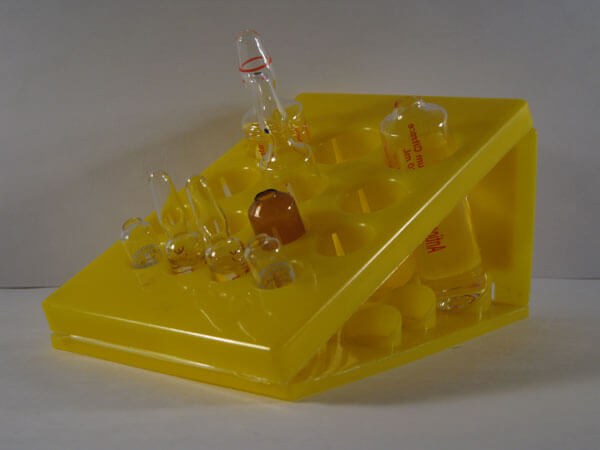 AH
Volume Discounts
1 to 6 units: $22.99 each
7 to 12 units: $20.99 each
13 to 24 units: $ 18.99 each
Detailed Specifications
Compatibility: AH is made to suit most ampoule's from sizes from 1ml through to 20 ml.
Performance: AH is easily assembled in seconds. It forms a triangle support platform that is designed to hold multiples of ampoule's securely at all times. Ampoule's can be stored in AH when getting ready for procedures or other needs. AH is designed to hold: x 4, 1 ml or 2 ml ampoule's, x 4, 5 ml ampoule's, x 3, 10ml ampoule's and x 3, 20 ml ampoule's.
Sterilization and Reuse: AH is sterilizable. Contact our sales team for details.
Customization: AH can be made to suit any special requirement a client may need. Contact Sales for further details.
Product & Packaging Customizations
Promotional Use/Custom Branding: AH is available for promotional use. It is larger and more costly to produce than the AH ampoule opener. It is easy to use as a promotional piece or be supplied separately in a custom branded box with instruction or other literature inside. AH can be custom printed with a company's logo and other requirements can be met. Promotional use of AH is available on high-volume purchases. Contact a sales representative using the contact form below for details.
Product Packaging Options
Individual card type packaging: Instruction literature is supplied with each individual unit.
Kit: The AH can be combined in any "kit" configuration required by a client.
Bulk: All products are available in custom bulk configurations.
Custom packaging is available subject to our design and construction abilities.
Contact a sales representative using the contact form below for more details on product packaging options.
Product Literature: Safety sheets are supplied with all products when individually packaged. Bulk literature is available when required by the customer. English is the primary language, however can be made available in other languages per customer requirements. Literature sheets can be customized for clients' needs. Contact a sales representative using the contact form below for details.
International & Distributor Orders
We welcome international customers and those interested in placing large discounted wholesale or institutional orders to contact us using the form below for a quote.