Don't know which ampoule opener to use? No problem! Measuring your ampoule is easy and will enable you to determine which ampoule opener will safely open your ampoules with consistency and ease.  Don't want to measure ampoules, just send us samples instead.
Step 1: Measure Your Glass Ampoule
In order to recommend or produce an ampoule opener to suit your special application without samples, we'll need the specifications of the ampoules in need of opening. The specifications are easy to obtain from your ampoule manufacturer or alternately you can easily measure the ampoules yourself after viewing our ampoule measuring instructional video, available below, using either a metric ruler measuring in millimeters (mm) or metric micrometer.

Required Dimensions (in mm, +/- 0.5mm accuracy)
Width (diameter) of base
Overall height
Height to shoulder from base
Height to the score line from the base
Neck area measurement from score line to tip
It is always wise to measure a few of the same size ampoules from different batches, as dimensions can vary somewhat in production.
Important: If ampoules to be opened have or will have labels that go around the ampoule's body affixed at the time of opening, include the label itself in your measurements to accurately account for fit within the opener.  If a pharmacy or other entity is attaching identification labels on the neck or body of the ampoules you use please let us know.
Step 2: Determine if Your Ampoule is DIN Compatible
Compare your measurements from Step 1 with the chart below. If your ampoule meets the criteria you can purchase either the AO Original or the AO+ Ampoule Opener. If your ampoule is outside the measurements shown below, please consider the AO+ Ampoule Opener.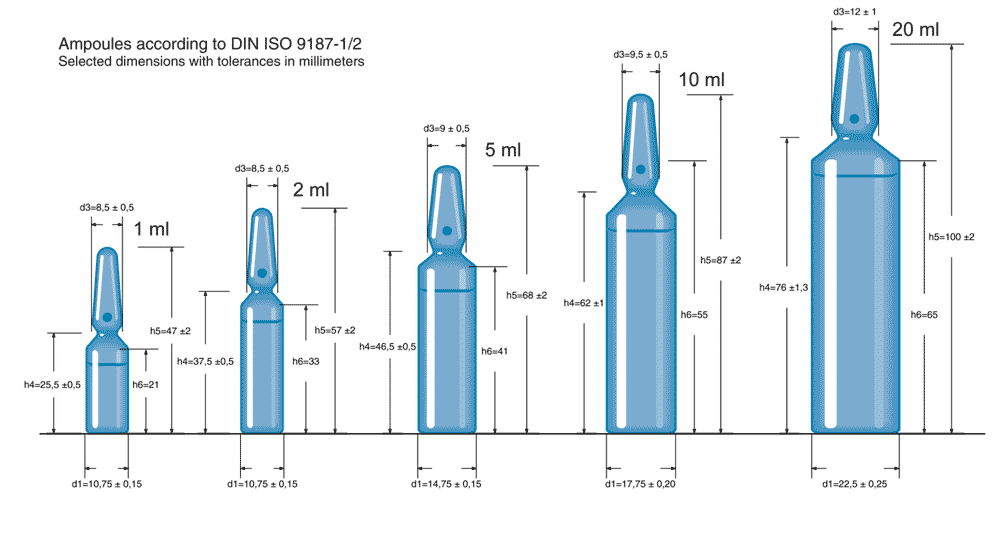 (click image to enlarge)